PROJECT
Establishing a Global Synergy Model of Overseas Base x Online Exchange x Study Abroad
KEYWORD

Implementing on-site exchange program at overseas bases / Combination of online exchange and study abroad programs / Using English as a lingua franca / International peer-learning among students with time difference and different academic calendar systems / Preparing for long-term study abroad programs by using online programs. / Supporting students to pursue a global career / Promotion for international research activities in collaboration with foreign researchers / Accelerating a planning process
The main purpose of the project is to establish an effective combination model of online and on-site study programs by utilizing overseas bases. The project period is for 5 years, from AY2021 to AY2025. Online exchange programs will be implemented for domestic and foreign students of partner universities in Japan and foreign countries. First, the program (in English) will be organised in the ASEAN region which is set as the target region. Subsequently, the target region will be expanded by taking advantage of international networks including partner foreign universities and overseas bases of universities participating in this project with consideration of time differences. In this process, both online and on-site programs about local culture and history will be conducted on their theme (after resumption of actual travel). The participating universities will provide their resources each other to establish more sophisticated models and share them with other universities in Japan.
DETAIL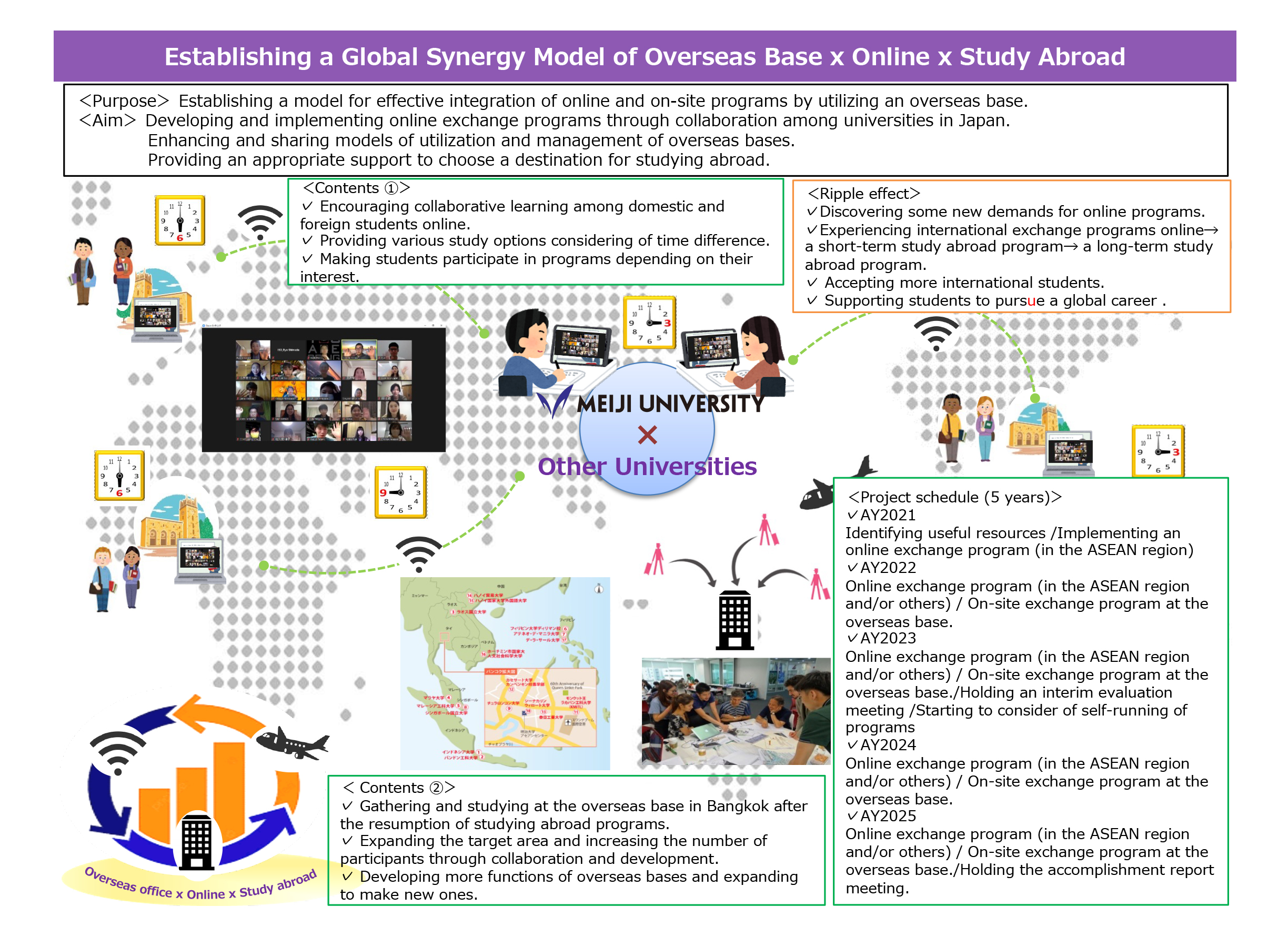 Notes Regarding Collaboration/Participation
・Participants are not required to have an overseas base to join, but if an overseas base is already established, it would be more preferable.
・No restriction has been set out for joining (trial participation) or withdrawing during the five-year project period from AY2021 to AY2025.
・Universities participating in this project are required to host (or co-host) at least one online program during the period of membership . The host university of some programs will take a responsibility for the operating costs of them.
Contact Info.
International Collaboration Office,
Meiji University